h
---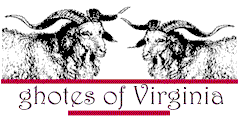 Northampton County Maps
Copyright 1999 by Jim Lokenbauer
---
These maps of Northampton County and the indices that accompany them were created by ghote Jim Lokenbauer. Jim used data from Whitelaw's Eastern Shore of Virginia, deeds, wills, and other sources to create these new tools. Jim has generously agreed to share them with ghotes and visitors to the ghotes website. As you will see as soon as you start to explore here, Jim has created an extremely valuable research tool for everyone interested in the history of the Eastern Shore and Eastern Shore families. Proximity has repeatedly been recognized as the key predictor of relationships, and here you have an informative and fascinating tool that will let you see how near or far individuals may have actually resided from one another.
Our sincere thanks go to Jim. We greatly appreciate all the hours that went into this labor. We also appreciate Jim's generous nature—from which we all benefit now!
---
Where Did Your Ancestors Live?
Use Jim Lokenbauer's Northampton Maps and Family Locator Files to Find Out
---
First
Find the name of your ancestor in the Master name Index below from Northampton County Virginia. The list will show where in Northampton County your ancestor lived. You can then go to the maps of Northampton County, and click on that area of the map, to see who else lived in the same area. There are over 4000 names in this list, so it will take a couple of minutes to load..
---
Second
Click on a map below to see its full screen version. The maps are laid off in numbered sections, that correspond to the sections used by Whitelaw. The files that follow each map list the names of people who lived in each section between 1600 - 1800. Search the Master Index file for your ancestor and locate the section number(s) for that individual. You can now click on the section number on the maps to see who the neighbors were, or locate the area on the map and then use the Individual Patents and Owners files to see who the neighbors were!
Individual Patents and Owners from Upper Northampton County Map 1600-1800
---
Individual Patents and Owners of Middle Northampton County Map 1600-1800
---

Lower Northampton County
(Sections N1 - N24)
Individual Patents and Owners from Lower Northampton County Map 1600-1800
---
Return to the top of this page.
Return to the GHOTES home page
---
Page accesses to date:
---
---
Barbara Cox ghotes@ix.netcom.com

Copyright © 1998 Most recent revision Friday, April 23, 1999 06:25 AM
---