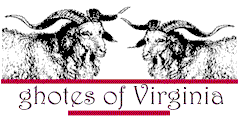 Ghotes Conference 2002
Last Updated 13 August 2004
Mark your GHOTES calendars!
The next Ghotes Conference ( GHOTES 2002 ) is being planned for the week of September 23, 2002, on the Eastern Shore of Virginia! We hope to meet all of you on the Eastern Shore of Virginia in September, 2002.

This will be our third conference. (We won't have another one for about three years or so, so don't miss this one.)

You will not believe the speakers assembled to share their expertise at this conference! The experts on Eastern Shore history and families. Not just one or two, but a dozen.

Orientations, conference registration, and ghotes reception will take place on Monday, September 23. Be there! (Use the links to the schedule and the registration form at the bottom of this page for more information.)

---

Ghotes 2002 activities include:

Ghotes 2002 Reception at historic Kerr Place in Onancock. (Monday, September 23, 4:00 P.M.)

Workshops, seminars, presentations on Eastern Shore history and genealogy from renowned researchers and historians, including but not limited to ...
Miles Barnes
Frances B. Latimer
Jean Mihalyka
M. K. Miles
Barry Miles
Becky Miller
Jean Raleigh
David Scott
Gail M.Walczyk
We are working on organizing another fantastic Historic Homes Tour. Our Olde Ghote Dr. Bill, who knows everyone on the Shore, made the arrangements for our tours at previous conferences. Hurry up and get well, Dr. Bill. We can't do it without you! .
Exhibits: Publishers, Authors, Book Dealers
Exhibits will be set up in our main conference room. These will be available throughout the conference except during speaker presentations. The reference tools so needed by Eastern Shore family researchers, especially by those who do not live in close proximity to the Shore's courthouses and library, will be exhibited and available for purchase. Exhibitors include: Hickory House Publishing, Petersrow Publishing, Eastern Shore Historical Society, authors' works of Anne Nock, Miles Barnes, M. K. Miles, Barry Miles, Dean Hickman, and others.
Special Historic Photo Presentation from Photographer Elton Bennett
See and hear some of the delights of discovering family history on the Eastern Shore through the lens of ghote Elton Bennett. A treat you must not miss!
Orientations to the Courthouses and Library (A must for newbies to the Shore!)
The events of Monday, September 23, will include orientations to the Accomack County Courthouse records, the Northampton County Courthouse records, and the Eastern Shore Room of the Eastern Shore Public Library. (To avoid crowding in these rooms, two sessions will be conducted at each Courthouse and three sessions at the Library. See conference schedule for times.)
Map Workshop
We'll be making a huge map of the Eastern Shore showing where our ancestor families lived. Find out who your family's neighbors were ... We expect discoveries to ring out ... So that's why great-great-grandfather was named Obediah! or Look—Aunt Julia's guardian was William Nelson! or No wonder she lived across the field from her mother—she married the widower on the neighboring farm! And wherever possible, our Eastern Shore land and geography experts will help you identify where your ancestors lived.
Meet the Authors Breakfast & Booksigning
Among our Author Guests will be Miles Barnes, Frances Latimer, Jean Mihalyka, Anne Nock, Barry Miles, Moody Miles, Gail M. Walczyk, Frank Walczyk, Dean Hickman, and others to be confirmed.
(Buy your own breakfast.)
Family Group Discovery Sessions
Meet the researchers, family historians, and ghotes family and friends who share your family ties and interests. Share information, resources, questions, frustrations, and discoveries. Bring your photos, stories, other memorabilia and be ready for lots of connecting!
Photocopier, scanner, & computer will be set up with genealogy programs installed for sharing of data.
Plenty of opportunities to eat good Eastern Shore FOOD
PLENTY OF TIME TO VISIT WITH OTHER GHOTES, meet newly found family, and walk the pathways of our ancestors.
The Ghotes Banquet: An Eastern Shore Feast with our ghotes family and friends.

---
Locations
As you can see from our activities list, this conference moves! Courthouses, the ESVA Library, Kerr Place, and historic homes. Our exhibits, computer, photocopier, Booksigning Breakfast, and some presentations will be held in the large and recently expanded conference room of the Trawler Restaurant in Exmore. Our banquet will be held at the Trawler also. Obtain your banquet reservations early.
If you have never been to the Eastern Shore of Virginia, be assured that finding your way around is easy. Do not stress over finding the conference, hotel, or any of our other venues. The Eastern Shore is a peninsula with one main highway, Highway 13, running north and south from one end to the other. The hotel and conference meeting room are right on the highway in Exmore. The other places are just one turn off the highway. We'll post a page with directions for all the places before conference time.

Accommodations
The Best Western in Exmore (2543 Lankford Highway, Exmore, VA 23350) is right next door to the Trawler and has reserved a large block of rooms just for ghotes conference participants, Monday, September 23 - Friday, September 27. Make your reservations direct with the hotel and ask for the ghotes conference rates. The phone numbers are (757) 442-7378, or toll free 888-768-8313.
You might want to know that they have two rooms that are wheelchair accessible. They also have non-smoking rooms, many downstairs rooms, and 8 suites with microwaves and refrigerators.
If you need information on campgrounds, bed and breakfasts, or accommodations elsewhere on the Shore, click here.
Conference Fees
The conference fee is $90 per person, which includes the following:
ALL orientations
ALL talks and presentations
ALL exhibits
ALL Family Group Discovery Sessions
GHOTES Reception at Kerr Place, September 23 (Extra tickets may be purchased for $15.00.)
Breakfast and Booksigning (buy your own breakfast though)
Access to computer, scanner, copier (bring your own disks)
Historic Homes TOUR
Tickets for the GHOTES Traditional Eastern Shore Banquet are not included. These may be purchased for $19.50 each. Make your reservations early. Seating is limited.

Who Can Come?
Conference registration is open to all ghotes and Lovers of the Eastern Shore, subject to space availability. Fees for ghotes and non-ghotes are the same.

Events that are "open to the public," that is, to persons who do not register for the conference itself, include the following:
GHOTES Reception at Kerr Place, September 23. $15.00.
Authors' Breakfast and Booksigning. September 25. The Trawler. No fee to attend. Buy your own breakfast.
GHOTES Traditional Eastern Shore Banquet. The Trawler. September 27. $19.50.
---
Would you like to reserve exhibit space at the conference? Contact ghotes@ix.netcom.com.
SEE YOU THERE!
Barbara
---
Go to Conference Schedule.
Go to Conference registration form.
Return to the top of this page.
Return to the GHOTES home page
---
Page Visitors
---
---
Barbara Cox ghotes@ix.netcom.com
Copyright © 2002. Most recent revision August 13. 2004 (wls)