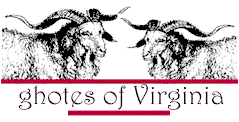 The Will of Southy Nelson
Transcribed and posted by ghote Will Brown.
In the Name of God Amen. I Southy Nelson being Sick and weak of body, but in perfect Sense and Memory, thanks be to God for the same.; I do hereby make and ordain this my last Will and Testament in manner and form following Viz.
Item I give and bequeath unto my brother John Nelson my Gun that he has now and my new hatt and my gray Coat, Red Vest and blue breeches.
Item I give and bequeath to my Sister Molly Freshwater Ten barrels of Corn.
Item I give and bequeath to my loving wife Elizabeth Nelson, after paying off the Legacies and all my Just Debts, the remainder part of my Estate be it in whatsoever kind it may untill my son John Nelson comes to lawful age for to bring up my Children upon. If my wife should marry or die before my son John Nelson comes of age, my desire is that they should then come to an equal Division betwen my wife Elizabeth Nelson and all my children namely William Nelson, John Nelson and the child my wife goes with.
And lastly I do hereby Nominate Constitute and appoint my loving wife Elizabeth Nelson and Southy Goffigon to be my Executrix and Executor of the My last Will and Testament. In Witness whereof I have hereunto Set my hand and Seal this 6th day of January 1781.
Southy [X] Nelson
Signed sealed & acknowledged inthe presence of
Southy Goffigon, Lucretia [X] Fathery
At a court held for Northampton County the 14th day of February 1781.
This Will was proved by the oath of Southy Goffigon and Lucretia Fathery witness thereto and ordered to be recorded; And upon the motion of Southy Goffigon the Ex. and Elizabeth Nelson Exx. therein apointed, And they having given bond with security and taken the oath according to Law, A Certificate is granted them for obtaining a Probate thereof in due form.
Exad. Test
---
Return to the top of this page
Go to other information on Southy Nelson
Return to the Original Source Materials page
Return to the GHOTES home page
---
Page accesses to date:
---
Barbara Cox ghotes@ix.netcom.com

Copyright © 1996, 1997, 1998 Most recent revision February 9, 2004 (wls)
---