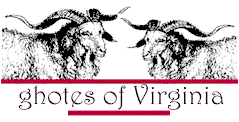 The Will of William P. Copes
Transcribed and posted by ghote Judy Jehn.


I William P. Copes being in good health and perfect senses do make this my last will and testament. I give to my half Brother Thomas P. Copes my lot which I purchased of Wm White in Frank town and all that I am worth beside be it in any property whatever and do make my friend John Addison Esq. my Executor. Wm. P. Copes 14th April 1822 NB. John Addison, Edward Rsberts, John Cellapp, John Leatherbury and many others can swear to my handwriting so these requires no witness.
WPC Proved at court August 1822.
The last will and testament of William P. Copes deceased was proved by the oaths of John W. Leatherbury John W. Wilkins, John H Bayley, and Samuel G. Carpenter ( who made oath they were will acquainted with the hand writing of the testator and that this paper purporting to be the last will and testament of the said William P. Copes was written wholly by him -----to be recorded. And on the motion of John Addison the executor therein named who made oath together with John C. Parramore his security, entered into and acknowledged a bond in the penalty of $3000 conditioned according to law.
Certificate is granted the said JohnAddison for obtaining probate thereof in due form.
---