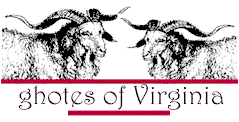 The Will of Sarah Copes
Transcribed and posted by ghote Judy Jehn.
Here is Sarah Copes' will. She was first married to a Garrett and then to Solomon Copes (I don't know who his parents were). She died in 1811; she is listed in the 1810 census for Accomack County, Virginia.
In the name of God, I Sarah Copes of Accomack County and State of Virginia do make and ordain this my last will and testament in form and manner following of Viz. that after all my just debts are paid, I give and bequeath unto my brother, John Taylor's daughter Suchy Taylor, my spinning wheel one lite callico habit and one black bonnett to her and her heirs forever.
Item, I give unto my son William Garrett, two pair Silver Shoebuckles to him and his heirs for ever. Item, I give my cloth cloak to be divided between my two sons, William Garrett and Solomon Copes to be made into jacket for them and twill cotton and one wooling blanket to make into clothes for them.
Item, and its my will and manner that all my property not ----given to be equally divided between my two aforesaid sons, William Garrett and Solomn Copes to them and their heirs forever
and lastly I appoint my Brother John Taylor my whole and Sole Executer of this my last will and testament.
In witness thereof I have set my hand and Seal this the Sixth day of February 1811.
Signed and acknowledged and witnessed of us, John Cole, William Gillispie
Proved 25th March 1811
John Taylor to have bond of security of in the penalty of Two hundred Dollars.
---
Return to the top of this page
Return to the Original Source Materials page
Return to the GHOTES home page
---
Page accesses to date:
---
Barbara Cox ghotes@ix.netcom.com

Copyright © 1996 Most recent revision Saturday, Decenber 13, 1997 6:53:26 PM
---