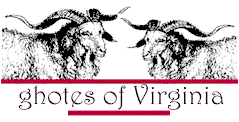 The Will of Cornilius Ironmonger
Transcribed and posted by ghote Judy Jehn.


In the name of God Amen. I Cornilius Ironmonger being weak in body but of sound judgement and perfect mind and memory blessed be the Almighty God for the same, do make and publish this my last will and testament in manner and form as following: That is to say, First I give and bequeathe unto my son James Ironmonger agreeable and comfortable to a deed of gift dated the 27th day of Nov. 1807 this whole of my land lying and being in Accomack with this exception only that my wife Easther shall have one half of the said Land during her remaining my widow or during her natural life.
It is my will that my son James should ------- and catticate (?) the aforesaid half of the said land out of such proceeds said James Ironmonger shall all-- give to my wife Easther two fifths of land proceeeds as a rent or allotment for said land and such crop or crops as are growning over the land at the decease of my wife Easther shall develove to and cropes my son James aforesaid. Also I give and bequeathe unto Easther Power, daughter of Southy Copes, six pounds, I also give unto William I. Copes six pounds. Also Southy Copes the sum of one shilling this aforesaid sum of Virginia currency. My will is that the still shall be used during the time it lasts on the land for the good of my wife and son James the natural life of my wife then revolve for my son James. And lastly I give and bequeathe unto my wife Easther the whole of my personal estate and property during her natural life after my fair and just debts are paid, and after her decease to be equally and fairly divided between my two sons, Edward and James.
I further declare this my will that my said son Edward Ironmonger and James Ironmong shall by my whole sole executors of this my last will and testament hereby renoucing all former will or wills made by me.
In witness whereas I have ------ set my hand and ---- this 20 day of February 1810.
Signed, sealed published and declared by the names Cornelius Ironmong to be his last will and testament in the presence of us who have hereunto signed our names as witnesses in the presence and with the consent of the Testator, William H. Corard, Richard Kelly, Sally Topping
Proved at court 30 day of December 1811.
---