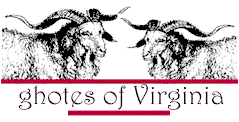 Will of Edmond I Bebee -- 1660
Recorded January 5th 1660
Provided by Nita Pearce
---
unreadable in beginning of document--
And after my just debts be paid I then dispose of forthwith------- ----- -----
----------my son Edmond Bebee my plantation whereon I live--------------
---------thought approaching my death ---- ------ my outward estate I shall
------& ----- to be equally divided into three equal parts
----------my cattle sheep mare & my negro groomsman between my loving wife Frances Bebee & my two children---- I bequeath to my loving wife all of my monetary estate two beds & ----and to my daughter Elizabeth ---all of furniture belonging to ye.
--- I give unto my wife my plantation during her life & also all --- (money) (Mare) it belongs to me and cattle & sheep I give to my wife to dispose of for ye bringing up of both my children.
and if either of my children should die during their minority or both their estates shall revert unto my wife ----unto my Brother George Freshwater and three children I give ------ a yearling heifer sheepe & cattle ------ & they & their ------ shall give to ----benefet of the children
And I give unto my sister Elizabeth Freshwater a hundred lbs to purchase a ring to wear in token of my love. ------- books-------------
And finally to my loving wife --- exeture of this my last will and testiment don this 12th of December 1660.
Amos Stratton Edmond Bebee
Robert Burwell
In the Court held for Northampton County ye -5th of December 1660
I Jo -----Stringer
The will of Edmond Bebee was --------- in open by ye tesitmony of Robert Burwell & Amos Stratton and approved of by ye Court.
Recorded January 5, 1660
---
Return to the top of this page
Return to the Original Sources page
Return to the GHOTES home page
---
Page accesses to date:
---
Barbara Cox ghotes@ix.netcom.com

Copyright © 1998 Most recent revision February 9, 2004 (wls)
---