Edward James Savage
Researched by Nora Miller Turman 21-Nov-1988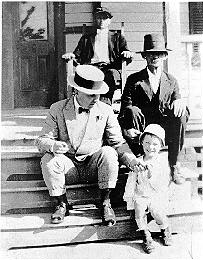 William Edward Savage (My Father)
Edward Norman Savage (My Grandfather)
Edward James Savage (My Great-Grandfather)
Bud Gardner (with black bowtie)


Edward James Savage was the eldest son of Edward James and Mary Elizabeth Savage. He was born in 1848 according to his gravestone inscription. He was listed as one year of age living in the household of his parents when the 1850 Census was taken. In 1860 he was listed as 11 years of age with his brother Charles (9), Thomas J. (6), and an unnamed son as 7/12.

On 23-Nov-1884, Edward J. Savage married Cordelia Davis Belote, daughter of William and Susan Belote. (This marriage is listed in my Belote Family Bible. My father was raised, in part by his Grandmother and he refered to her as "Big Mama" ... WES,Jr.)

Edward J. Savage died intestate on the last day of January, 1929. (My family Bible indicates that his death was January 1st...WES,Jr.) Cordelia D. Savage, widow, age 67 years, qualified as executrix on 13-Mar-1939 and listed the heirs (her children) as follows:
NAME
AGE
MARRIED 1st
MARRIED 2nd
William Wharton Savage
AGE: Deceased
b. 23-Apr-1886
d. 6-Oct-1911
Leila Haley
m. 2-Aug-1910
N/A
Cordie Lee Bell
AGE: 41
b. 4-Oct-1887
d. 13-Jan-1965
Dr. John Kellam
m. 2-Jun-1910
Hugh Bell
m. 29-Dec-1926
Edward Norman Savage
AGE: 38
b. 1889
d. 6-Sep-1955
Nannie Mears
m. 3-Aug-1916
N/A
Alice Belote Gardner
AGE: 37
b. 17-Aug-1891
d. 23-Jan-1964
Alfred Bud Gardner
m. 31-Dec-1912
N/A
Mary Susan Gardner
AGE: 25
b. 24-Jul-1903
d. 1976
W. Clark Gardner
m. 21-Mar-1925
N/A
All children had addresses listed as Onley, Virginia.
---
Notes and References:
U.S. Census for St. George Parish, Accomack County, VA for 1850 p. 144
Accomack County Marriage Register No. 3 1853-1896 p. 82
Will Book 22, p. 35 New series.
---
Return to the GHOTES home page
Page accesses to date:
---
Barbara Cox ghotes@ix.netcom.com

Copyright © 1997. Most recent revision December 6, 2003 (wls)
---