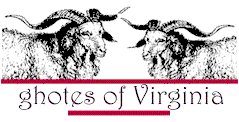 NEW BOOKS
---
Adventurers of Purse and Person
Virginia 1607-1624/25
Volumes I, II, III.
Fourth Edition Compiled and Edited by John Frederick Dorman, C.G., F.A.S.G.
Volume One Families A-F; Volume Two Families G-P; Volume Three Gamilies R-Z.
ISBN 0-8063-1744-2
Books may be available at the
Book Bin, Inc.
4 Corner Plaza
Onley, VA 23418.
(804) 787-7866.
The Book Bin Website Home Page
E-Mail the Book Bin

If you know of other new books that should be listed on this page, please send information to
Jack Burn
---
Return to the top of this page.
Return to the GHOTES home page
---
Barbara Cox ghotes@ix.netcom.com
Copyright © 1996, 1997, 1998 Most recent revision February 11, 2004
---