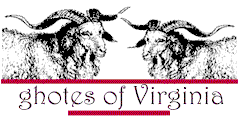 ---
A Letter about the Lankford family and Lankford's Island
Provided by Terry Ann Ewell
This is a three-page letter, that was written in 1965 by Stella Scott J?, about the Lankford family and Lankford's Island (located outside of Muddy Creek, across from Guard Shore, and opposite Barnes' Island. Terry Ann Ewell typed it just like she wrote it, using her spellings.
"A Personal Word"
These "Lankford" relations are from memory as given me by my mother, Arinthia Lankford Scott, who died in June 1901.
Don't know when the "Lankfords" left the Island but presume somewhere around Civil War time.
Selby #1 and his wife - Amy - evidently died there and the children that married moved elsewhere to live---so that left Great Uncle Sam - Great Uncle John and Great Aunt Polly.
I can remember as far back as the earliest 1880's where these three were living together on a small farm they had bought near Old Guilford Church. "Violet" the old colored woman remained with them up to this time---and that is where I played with her grandaughter - Rachael.
My mother also used to tell of the happy visits she made to her grandparents on this Island - as a growing child and early teens. Old Selby #1 kept his decanter on the sideboard and dispensed drinks in a social manner (of which my mother disapproved) - tho' he was never classed as a "drinking man". Just the English in him - I presume.
The Island was fertile - slaves were there to til the fields - and life was rich indeed.
February 1965 Stella Scott J?
"The Lankford Family"
of
"Lankfords Island"---near Guard Shore
Three small English boys - with their nurse - were washed ashore in a terrific ship-wreck off our Atlantic Coast - on the way to---or---from---the West Indies.
The parents were drowned but the nurse gave the story and the name "Lankford".
One of these three boys---"Selby Lankford"---was cared for by friends here---another was taken to Princess Anne, Md---and the third one to Norfolk, Va. So the "Lankfords" from those towns sprung from the same source.
Selby Lankford #1---grew to manhood---married Amy Lewis from Hunting Creek---bought an island near Guard Shore---built a house and always lived there. It is known as "Lankfords Island" to this day.
Those were the late days of slavery---and Selby #1 had a few. There was Pete and Violet---who I think were brother and sister---but Violet had two children, George and Fannie and a grandaughter named Rachael. Rachael was about my age and a delightful playmate.
The island had a very rich soil - and vegetables - flowers and fruits grow in abundance. Also there were pigs - poultry and cows. It was a little kingdom by itself and Selby #1 was lord of it all.
Selby #1 and Amy had several children - I do not know all the names. There was two daughters - Nancy and Polly. Nancy married a "Wessells" in the Drummondtown area. Polly never married. There was "James" who married "Ann Gladding" and lived in the Mearsville vicinity. There was "Samuel" and "John" who never married. And "Selby" #2 who married "Peggy Young" of Guilford Creek and they became my grandparents.
They had ten children---three of whom died in early childhood. The remaining seven were -
2 Nancy Lankford - Lewis
1 Margaret Lankford - Shries
3 Arinthia Lankford - Scott - Ackley?
4 William Lankford
5 Virneta Lankford Taylor
6 Thomas Lankford
7 Emily Lankford - Matthews
That name "Selby" was always revered and used many times. "Arinthia" married Joe Thomas Scott of Chesconnessex and had four children---"John Selby Scott"---"William Fletcher Scott"---"Thomas Drummond Scott"---and "Stella Scott".
"The Youngs" were gentle-mild mannered folks---but the "Lankfords" were more lordly. They held themselves in high esteem---and required the same from others.
February 1965 Stella Scott J?
---
Return to the top of this page
Return to the Original Source Materials page
Return to the GHOTES home page
---
Page accesses to date:
---
Barbara Cox
ghotes@ix.netcom.com
Copyright © 1996 Most recent revision February 9, 2004
---