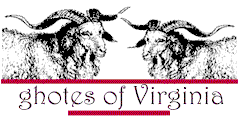 Two Letters written by JS Staton
in 1885
Two letters written in March and Nov. 1885 that relate to the Conquest and Staton families - from JS Staton in Tenn. to his cousin Edward H. Conquest in Accomack Co.
Provided by Linda Abel
---
Letter 1

From Clarksville, March 1885 to Mr. Edward H. Conquest

"Dear Cousin, I received the paper you sent me with one Cousin Sarah sent also a letter from Sarah and I was very sorry to hear of Cousin Nathaniels death. I was thinking very strong of seeing all of my relations and adquatintance in old Accomack this summer or fall if I can get Brother Jacob to meet me in Temperanceville in Accomamack. I will try and see you all and him at the same time if he will not meet me I shall have to give out the idea of coming to Virginia for I want to see him and if I have to go to Iowa to see him it will be out of my power to go to both places. I have received two letters from brother since you wrote to me Edward. I have almost forgotton who you married was it not Mr. D Broadwaters half sister I know who all the other children married I suppose that you and Joseph are all of my uncles children left and there is only two of my mothers left and we will all soon pass away from earth Edward were you in the army in the time of war or did you have any children in the army. I had three sons in the Confederate army one of my sons got kiled and the other two come out safe I have but the two sons and one daughter living after my wife died which is two years last Feb I went to live with my daughter Anna She maried a man by the name of Josiah R. Neblett of Tennessee both of my boys live within five miles of me my son Charlie had the misfortune to have his house burn and everything in it and no insurance on it they barley made there escape with their lives Charlie and one son got very badly burned but they are doing very well Edward is William Fedderman and wife living or are they dead are all of the Lathams dead or not the Bailey Boys are they living who did live near temperanceville I have never seen a man from the Eastern Shore of Virginia or Maryland since I have been in Tenn there is a great many Virginians out hear but none from the Eastern part Edward is Drummond Town improving any or not is all the Ailworths and Statons dead Edward write as soon as you get this you have no idea the pleasure it is to me to read a letter from any of my relations or friends I sometines get low sprited and if I can get a letter from my kinfolk, it buoys me up tell Joseph I have been looking for a letter from him but have never received one yet I will close as I have nothing more to write Yours Truly, J.S. Staton"

(The letter was written to Edward H. Conquest from Accomack Co. who died 1889 and was married to Mary A. Broadwater who died 1899. The brother he refers to in Iowa was Jacob Staton who lived in Muscatine Co Iowa according to census records. Refer to the Taylor Bible on Ghotes page for more references to the Conquest family)
Letter 2

From Clarksville, November 1885 to Mr. Edward H. Conquest

"Dear Cousin it has been a bout one year since I heard from you. I received a letter from you I think in November forty four my folks are all gone from home and I feel so lonesom I thought I would write a few lines to you I have written to Cousin Jo and he has never answered my letter at all I do not know wheather he received it or not I would like to hear from him very much Edward please answer this as soon as convenient if you should see Joseph if he ever got the letter I wrote him some time ago and ask him to write to me i do love to hear from my relations if I canot see them I thought I would have gone to old Accomack last summer but in conciquents of my health being so bad I was afraid to start Edward I have forgotton wheather I enquired about Jane and Emeline Conquest used to be are they living or dead I am still living with my daughter Anna Neblett she is my only daughter I have two sons living John and Charlie please ask Cousin Sarah Conquest if Margaret and Leah Godwin are still living in Baltimore I wrote to them some time ago and directed my letter to Franklin St No 190 Baltimore Md and I did not know wheather I directed it right or not. I have had no answer I received a letter from my Brother Jacob in Iowa two or three days ago and he says he has been sick the whole year but was improving when he wrote to me Edward I see old Virginia has elected Lee instead of John S Wise republican it does my very sole good to know she is still democratic Edward is Ephraim Staton living or any of the Staton family I see Esq John Richardson the other day he was borned in Snow hill Md but he has been living in Tennessee over fouty five years he has been on a visit to Snow hill has just returned from there through Accomack County and he says the county has improved in welth more than any place he ever saw I would like the best in the world to make a short visit to old Accomack but my health is so I dont expect I shall be able to travel that far Edward my hand trembles so bad I don't know whether you can read it or not please write on receipt of this you and Joseph are the only two first cousins I have living now I suppost nothing more but still remain yours Jos. S. Staton"
---
Return to the top of this page
Return to the Original Source Materials page
Return to the GHOTES home page
---
Page accesses to date:
---
Barbara Cox ghotes@ix.netcom.com

Copyright © 1998 Most recent revision February 9, 2004
---