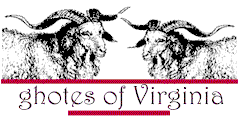 A letter written by
ALICE FRANCES DUNTON MAPP
to her cousin LOUISE ARMISTEAD
March 2, 1911
Posted by William Driscoll, Ghotes Member for Memorial Day, 1996
---
Readers: Here is a copy of a letter from Alice Frances DUNTON (born 19 January 1848 in Northampton County; died 22 October 1931; buried in Pine Bluff Cemetery in Northampton County). Alice was the daughter of David DUNTON and Bell Sarah NOTTINGHAM. She married F. B. MAPP 23 September 1869 in Northampton Co.

The letter was written March 2, 1911, to Louise Armistead and is now in the possession of the Armistead family.

William Driscoll
May 26, 1996
---




                                Bridgetown, Virginia, March 2nd,

                                                        1911



My dear Cousin:

             My brother (A. B. Dunton) handed me your letter. As he was 

only eleven days old when our mother died, he thinks I can better 

answer your questions.

             Richard Nottingham married the Lady Elizabeth Hatton and 

came here in the seventeenth century from England. They were the first; 

and now a mighty host.

             Jacob Nottingham married Sallie Jarvis Bell. They were my

grandparents. Their children were:



Dr. Custis Nottingham

Leonard Bell Nottingham

John Nottingham

Robert Jacob Nottingham (Bachelor)

William Thomas Nottingham (He was called Bill T.)

Mary Belle Nottingham

Lucy Ann Nottingham

Bell Sarah Nottingham



              Grandmother must have been proud of her maiden name. You

already know of Uncle Custis. Uncle Leonard was a prosperous merchant 

at Eastville. He had five children, one daughter who married Jimmie 

Saunders. All married and lived in or near Eastville. The two surviving 

ones are Cousins Rob and Severn.

              Uncle John married a Miss Applewhite of Portsmouth. He 

died and left three children. I dont (sic) know what became of his son, but 

the two daughters are married and still living in Portsmouth with their 

children.



              Uncle Bill T. was married three times. He had four 

children. One an idiot, lived to be grown. Alonzo married a Catholic 

girl from Baltimore. He died at the early age of thirty eight. His 

widow and children still live in Baltimore. Willie married a Mr. 

Kellam. She too died at thirty eight and left three girls. Indie, his 

first child, is a widow of Judge Heath and lives in Norfolk. Aunt Mary 

married a Mr. Hunt, who died and left her with a large family. Uncle 

Custis took two of her boys to Georgia. He put Cousin Thomas in a shoe 

store and cousin Leonard in a drug store. Cousin Thommie married and 

had several children. Cousin Leonard married but was childless.

Mattie married south a Mr. Calloway and left two children. Later Aunt 

Mary took her single daughter, Cousin Lucy and went south too. Now all 

are dead except one daughter, Cousin Jennie Taylor, who lives in Cape 

Charles with her daughter.



              Aunt Lucy married George Fitchett and left two sons and a

daughter, all dead but one son. He lives at the extreme end of this 

County. Bell Sarah was my mother. She married David Dunton; died at the 

early age of thirty six and left six children. My only daughter married 

a Mr. Maynard and lives in Newport News. My boys all married except the 

youngest. He is traveling in the interest of some firm. Richard 

Nottingham (a brother of Jacob) was R. W. Nottingham's grandfather. His 

father was Luther, a Methodist minister.



              I love the memory of my mother's people and the good old 

times we had together visiting and loving each other. I have seen the 

time I didn't have to get myself a drink of water, but I've sailed o'er 

rough seas since then.



              I will appreciate it if you will write and tell me all 

you know of Uncle Custis' family. As long as grandmother lived he came 

to visit her, and we always spent a day with him there; and one at 

Uncle Bill's and one at our house. I remember him well. He brought his 

wife soon after he was married, and I recollect how she looked. He 

brought his daughter Sallie once. My impression of her is that she was 

a very amiable sweet disposition. She is the only one of his children I 

ever saw, but the names Theodore, Willie and Marion are most familier. 

If I remember right, Willie was the blue eyed boy and I believe, one of 

the twins. My mother mamed one of her girls Marion Custis for uncle and 

his daughter. I should like you to tell me what circumstances caused

Uncle Custis to settle in Macon, Ga; how far you live from that place, 

etc. If you have a picture of yourself or family that uou can spare, I 

should like you to send it that I may form an idea of how you look.

               I regret the tragic death of your father. How broken 

hearted your poor mother must have been.

               As soon as I can get someone to take me to Eastville, I 

will examin the county record and give you further information.

               I dont (sic) know about our kinship to the Custis family, but 

will do all I can to find out. Grandmother, Grandfather, Uncle Bill, 

and two of his wives, and several of Aunt Mary's children, are buried 

in grandmother's home-place. Others are buried there too. My father 

opened a graveyard at his homestead, and my mother is buried there. She 

died Nov. 19th, 1858.



               I was sixty three years old the 19th of last January and 

you are forty.

               Tho I shall never see you in this world I welcome you as 

my kinsman.

               Now cousin, I must bid you good bye howing to hear from 

you in the near future.

                                Your sincere cousin

                                Signed Alice F. Mapp

Bridgetown, Virginia, Northampton County.

---
Return to the top of this page
Return to the Original Source Materials page
Return to the GHOTES home page
---
Page accesses to date:
---
Barbara Cox ghotes@ix.netcom.com

Copyright © 1996 Most recent revision February 9, 2004
---