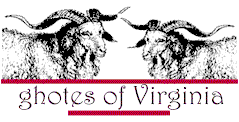 Miscellaneous Fisher Information
(Collected by Mary Frances Carey in August 1985
for Mrs. Blair Smith, from Accomack County, VA,
Order Books, 1663 to 1800, from Indexed Entries)
---
Orders 1676-1678
p. 24 - 2 Feb 1676. Phillip ffisher brought a Servant Boy named John Dowman to this Court to desire the Courts Judgement of his age - 18 years.
p. 141 - 25 Apr 1678. Phillip ffisher's cattle mark recorded. A fflower de Curl on the left Ear and a Slitt on the Right.
Orders 1703-1709
p. 143 - 7 June 1709. This day Elizabeth ffisher widdow prefented to this Court the Last will and Testament of her late husband Phillip ffisher for probation, she being Executrix. Will proved by John Morris and Wm. Lucus.
p. 167 - 8 March 1709. James Welch in suit of ejectment against John Whor and Wm. Lucus and Elizabeth ffisher, execctrix of Phillip ffisher.
Orders 1710-1714
p. 2 - 2 May 1710. Ejectment vs Lucus. Same suit as above.
p. 22 - 7 Aug 1711. Whereas Henry Armitrader the 22 Day of July Last being at Pungoteague Church and Lost his hat and bethg informed that Phillip ffisher had stoled it went to Capt. Henry Scarburgh one of her Majties Justices of the Peace and got a Warrant to Scearch for ye hatt & bising all Suspicious persons before me ye Constable goeing to ye houfe of John ffisher ffather to ye sd Phillip ffisher took ye sd Phillip ffisher and Also found ye sd Hatt & ye Constable Carried ye sd Phillip ffisher before ye sd Capt. Henry Scarburgh who Comndtted ye sd Phillip ffisher to ye County Goal and this day ye Justices of ye County Meeting at ye Courthoufe according to A Law in that Cafe made and provided and Ordering the Sheriff to bring ye sd Prisoner into Court, and the Witnefses being Called & ye sd Prifoner and wittnefses being Examined as ye Law directs ye sd Court was of opinion that there was not Sufficient Evidence that ye sd Phillip ffisher felonously Stole ye Hatt thereupon Ordered ye Sheriff take Phillip ffisher into his custody till he Enter into bond with Sufficient Security in the Sum of 20 pounds Sterling for his Good behavior during ye Courts pleafure & yt he pays all ffees.
p. 22a - 8 Aug 1711. Wrote here about Phillip ffisher trying to "brake" out of prison, and to receive 31 lashes "well laid on his beare back at ye ______ (Common? County?) Whiping Post."
p. 48 - 3 Sept. 1712. John ffisher petitioned Court to discharge Phillip ffisher for his good behavior. Court orders them discharged of their bonds, paying fees.
p. 50 - 2 Dec. 1712. Joseph Davis Complained to Capt. Henry Scarburgh one of her Majties Justices of the Peace against Phillip ffisher. He afraid ye sd Phillip ffisher will beat wound maim or kill him. Fisher discharged on bond.
p. 67 - 3 Nov. 1713. The last will and testament of John ffisher presented by Grace ffisher widow and Relic of John. John ffisher and Phillip ffisher executors. Will proved by John Parker and Thomas Rolls.
Orders 1714-1717
p. 7 - 7 June 1715. Order to take Phillip ffisher into custody. He was called and not appearing. Sheriff made a deligent Search and he not to be found. Order to Continue in force till he ye sd Phillip ffisher be taken.
p. 7 - Sarah Hack for fornication having a bastard child. Ann James for fornication having a bastard child.
Mary Richafon - same
Comfort Driggus - same
Mary Allen - same
Dorryti Sample - same
Elizabeth Abbot - same
John FitchGarret for Sabbath breaking in Sending Wm. Hooton to John Polfon for Fish. Court do thereupon Oder that ye Sherif forthwith take Phillip ffisher into his Custody & him safe keep till he Enter into bond until next court. All of the above to appear at next court.
p. 11 - 4 0ct. 1715. Order that Phillip ffisher be bound to his good behavior. Whereas one Elizabeth Palmer single woman appeared before Capt.Henry Scarburgh one of his Majties Justices of the Peace and made oath before him that she was with Child of a bafstard and was begott on her body by one Phillip ffisher. Capt. Scarburgh bound ye sd ffisher to this Court to anfser ye same and this Day he appearing and being examined and not having anything to say it did appear to this Court that ye sd Child was his. Sheriff to take him in Custody and him Safe keep till he Enter into Bond with good and Sufficient Security in the sum of 20 pounds Current Money of Virga for his good behavior during the Courts pleafure & that he pay Charges of Court.
p. 11 - Phillip ffisher was prefented by the Grand Jury in May Court for afsulting and beating wth many blowes William Wooton and Booth Jones at two severall times & made breach of his Majties peace Contrary to Law. Fined 200 pounds of Tobacco for each afsult.
p. 11 - Phillip ffisher presented by Grand Jury in thy Court for Breach of Sabbath two severall times. Ordered to pay to ye Church Wardens of this Parish 100 pounds Tobacco.
p. 25 - 2 Oct. 1716. Phillip ffisher ordered to pay his wife's fine. Elizabeth Palmer now wife of Phillip ffisher. Ordered to pay fine of 100 pounds of tobacco to Church Wardens of this Parish.
Orders l717-1719
p. 32 - 8 April 1719. Ester ffisher ordered to be taken in custody. She was prefented in March Court by Mr. Thomas Custis and Mr. Wm. Burton Church wardens for fornication and haveing a bastard child. Sheriff to take her into Custody and keep her till she enters into bond.
Orders 1719-1724
p. 17 - 3 May 1720. Phillip ffishers deed to John ffisher. Sale of land ordered to be admitted to record.
p. 27 - 3 March 1721. John Parker late deceased made Information before Coll. Tully Robinfon one of his Majties that John ffisher and Phillip ffisher hath killed & Stole Severall hoggs properly belonging to Mr. William Finney. Sheriff to take them in Custody.
p. 29 - 4 April 1721. This Day John Parker presented to this Court a power of Attny made by John ffisher and Mary his wife to him and defired it be proved. It was proved in open Court by the oaths of Sacker Parker and Will Bagge wch ye Court admitted to Record.
Orders 1724-1731
p. 54 - 3 May 1726. Grand Jury presentment against Cathrin ffisher for retailing liquor without Licence.
p. 82a - 3 Aug. 1727. In the attachment brought by Edward Revell against the Estate of John Parks, John ffisher appeared in open Court and made oath that He then had a certain Quanity of Timber which was got by Order of John Parks to Discharge his Debt due to the sd Parks Estate.
p. 256a - 4 Aug. 1731. John ffisher security for John Poulson in suit brought by Thongs English for 500 pounds.
p. 192a - 6 May 1731. John Wimbrough acknowledged his deed to Phillip Fisher.
Orders 1737-1744
p. 116 - 2 Jan. 1738. James Fisher, Orphan, to be bound to James Gibson to learn the Art and Mystrey of a Mariner.
p. 486 - 29 July 1743. John Fisher discharged after being bound by a Recognizance to the Peace. To pay costs.
p. 551 - 28 Feb. 1744. On motion of Elizabeth Fisher taking the oath and giving Thomas Bonnewell and Thomas Parramore for her Securities, Certificate is granted her for obtaining Letters of Administration on the Estate of John Fisher her late husband. Wm. Beavans, Junr., John Tankard, George Johnson and Wm. Lucas or any three of them being first sworn before a Justice of the Peace do appraise in currant Money the Slaves (if any) and personal property of John Fisher deceased and make Return thereof to the next Court.
p. 639 - 28 Aug. 1744. The Inventory and Appraisal of the Estate of John Fisher deceased being returned by his Ex-ecutrix is admitted to record.
Orders 1744-1753
p. 88 - 25 Sept. 1745. Ordered that John Fisher in whose Hands part of the Estate of Mary Lary, deceased, is said to be cited to appear at next court to show why he doth not deliver up the sd Estate to the Sherif.
p. 197 - 26 May 1747. The Audit and Division of Estate of John Fisher admitted to record.
p. 319- 26 Feb. 1746. Phillip Fisher made oath that he attended three days as a Witnefs for Arnold Morgen against Thomas Bennet. To be paid 5 pounds of Tobacco according to Law.
p. 325 - 28 March 1749. Phillip Fishers Account against Estate of Henry Jopson deceased. The Ballance thereof amounting to 10 shillings and 7 pence.
p. 337 - 31 May 1749. In the Petition exhibited by Thomas Fisher against Thomas E Connolly on hearing the the cases by their attornies and the examination of the witnesses It is considered that the sd Petition be dismissed and that the sd Connolly go home and recover against sd Fisher his Costs by him about his Defense.
p. 451 - 27 Nov. 1750. On consideration of the Petition of Phillip Fisher for leave to turn a Road. Ordered that Wm. Beavens & Samuel Burton view the Place where he intends to turn the Road and make a Report thereof to the next Court.
p. 483 - 26 Mar. 1752. Thomas Fisher presented and acknowledged his Indenture (deed) to George Johnson and admitted to Record. Sufannah the wife of sd Thomas was privately examined as the Law directs and voluntarily consenting.
p. 654 - 27 Feb. 1753. Thomas Fisher and Sufsannah his wife acknowledge their Indenture to Henry Fletcher and it admitted to record. The sd Sufsannah being first privately examined.
Orders 1753-1763
(Much of the index of "F" in this book is unreadable)
p. 152 & 155 - 28 Sep 1756. Bayly Fisher and Spencer Fisher, orphans of John, to be bound to James Johnson to learn the trade of bricklaying.
p. 262 - 27 Sept. 1758. Ordered that Wm. Beavans, Solomon Bird and Nathaniel Bird Audit & Settle Elizabeth Fisher's Account of her Guardianship on the Estate of Spencer Fisher, Barby (Bayly?) and Solomon Fisher and make return thereof to the next Court.
p. 299 - 30 July 1759. An Inventory and Appraisement of the Estate of Elizabeth Fisher deceased being returned is Admitted to Record. Also records of her Guardianship of Spencer Fisher, of Barly Fisher and Solomon Fisher Orphans being returned is admitted to Record.
p. 384 - 25 Feb. 1761. Thomas Fisher's petition against Major Nelson. Nelson fined.
(This book shows six other Petitions of Thomas Fisher against various persons. He won some and lost some. None of these cases show any family connections.)
p. 517 - 22 Feb. 1763. Phillip Fisher Presented and Acknowledged his Indenture to Robinson Fisher to be his Action & Ordered it Committed to Record.
Orders 1764-1765
Only Thomas Fisher cases in this book. It sounds like he was a merchant or had some similiar business and was trying to collect bad debts.
Orders 1765-1767
p. 99 - 17 July 1766. Thomas Fisher, Junr., against Sacker Shield and Thomas Bagwell. Both cases to next Court.
Orders 1767-1768
p. 54 - 28 April 1767. Thomas Fisher against Sacker Shield. In debt.
p. 341 - 26 Nov. 1767. Robinson Fisher, plaintiff, against Joshua Watson, defendant, in case of Tresprefs, Afsault & Battery. Jury selected and case continued to next court.
p. 376 - 29 Dec. 1767. In above case Defendant found not guility. He to get his costs by him about his Defence in this behalf.
Orders 1768-1769
p. l73 - 29 Sept. 1768. Robinson Fisher, plaintiff, against Simpson Bloxom, Defendant. Action of Trespafs. Case continued.
p. 259 - 1 Feb. 1769. Defendant in above case is guility. To pay 1 pound five shillings and costs.
Orders- 1769-1770
p. 339 - 30 Jan. 1770. Thomas Fisher's Indenture to Henry Fletcher Acknowledged and admitted to Record. No wife examined.
p. 363 - 27 Feb. 1770. On the motion of Benjamin Phillips taking the Oath & Giving Jacob Phillips and Wm. Smith for his Security Certificate is granted him for obtaining Letters of Administration on the Estate of John Fisher, Junr., deceased. John Boggs, Francis Boggs, Wm. Boggs and John Arrington or any three of them to appraise, audit and settle Estate.
p. 397 - 27 Mar. 1770. On motion of Lawrence White who intermarried with Anne widow of John Fishert the Younger Deceased ordered that the administration above be set aside and White to do it.
Orders 1770-1773
p. 176 - 27 March 1771. Shadrack Fisher Orphan to be Bound by the Church Wardens of Accomack Parish to George Fisher till Lawful Age to Learn the trade of a Shoe Maker. The sd George giving security to perform the Conditions of the indenture.
Orders 1774-1777
p. 52 - 23 Feb. l774. Polly Fisher and Thomas Fisher, Ececutrix and Executor of Thomas Fisher Deceased against James Twiford. Judgement agst Twiford.
p. 196 - 28 June 1774. Isaac Fisher Orphan to betund to Salathiel Fitchett to learn the Trade and Occupation of a Ship's Carpenter.
Orders 1777-1780
p. 2 - 27 May 1777. Shadrack Fisher's deed to Robert Small proved by the Oaths of the Witnefses.
p. 28 - 31 Sept. 1777. Shadrack Fisher's will proved by Solomon Johnson and Elijah Bird. Salathiel Fitchett to administer. Joseph Kelly his security.
p. 82 - 26 May 1778. John Fisher's will proved by Wm. Smith and Levin Smith. Benjamin Phillips the executor and Charles Bayly his security.
p. l71 - 28 July 1778. John Fisher's Inventory and Appraisal returned and ordered to be recorded.
p.331 - 27 April 1779. Caleb Fisher and wife Elizabeth deed to Smith Kellam.
p. 371 - 25 May 1779. Ordered that William Fisher be recommended to his Excellency the Governour as a proper person to be appointed lieutenant of a company of the Militia.
p. 383 - 29 June 1779. Thomas Fisher against Jonathan Laws.
p. 448 - 27 Oct. 1779. Shadrack Fisher's estate to be audited by Solomon Johnson, James Duncan, Elijah Bird.
p. 466 - 30 Nov 1779. Shadrack Fisher's estate recorded.
Orders 1780-1783
p. 135 - 27 March 1781. Thomas Hall Fisher, orphan of Ismae Fisher, chose Thomas Fisher for his guardian who gave Wm. Young and Wm. Fisher for his securlty.
p. 390 - 27 Nov. 1782. Rachel Fisher plantif against Levin Core defendant, on coplaint for the maintenance of a Bastard Child. Against defendant - 10 shillings and costs.
Orders 1783-1784
p. 52 - 29 July 1783. This day came Thomas Fisher who was under execution at the suit of Nathaniel Savage on a Judgment obtained against him in the General Court and being desirous to discharge the debt and costs had tendered lands in discharge thereof & submitted his title papers to the Judgement of the Court who were of the opinion that he claimed under the said Sale(?) the Title was sufficient.
p. 55 - Same date. An Indenture from Thomas Fisher and Sarah his wife to Nathaniel Savage was acknowledged and ordered to be recorded.
p. 61 - 31 July 1783. Thomas Fisher, Plaintif, against Jonathan Laws, Defendant, in Case.
0rders 1784-1786
p. 78 - 22 Feb 1785. Thomas Fisher, plaintif, against George Clayton Hinman, defendant, in Case.
p. 86 - Same date. An Indenture from Thomas Fisher and Sarah his wife to Crippen Taylor was acknowledged and ordered to be recorded.
p. 321 - 20 Sept. 1785. An Indendure from Thomas Fisher and _______ his wife to Wm. Rilley was partly proved by the Oath of Wm. Young and Ezekiel Young witnefses.
p. 439 - 31 Jan. 1786. On the motion of Shadreck Mears taking the oath and giving Wm. Andrews for his security -- a certificate for obtaining letters of administration on the estate of Thomas Fisher deceased. Ordered that George Savage, John Young, Henry Fletcher and Robert Small do appraise the estate of Thomas Fisher. Also audit and settle.
Orders 1786-1787
p. 203 - 26 Dec. 1786. An Indenture from Phillip Fisher to George Fisher was partly proved by the oaths of Ezekiel Thatham and Wm. Walker.
p. 255 - 27 Feb. 1787. An Indenture from Thomas Fisher and wife (unnamed) to Levin Joynes farther proven by oath of Ezekiel Young.
p. 250 - 2 Feb. 1787. Phillip Fisher against Major Colony. Petition dismissed.
Orders 1787-1790
p. 213 - 26 June 1788. Fenwick Fisher assignee of George Gilchrist assignee of Wm. Gibb Attorney for Thorogood Smith and Co. Assignee of Selby Simpson Assignee of Isaac Warner, Plantif against Wm. Hutson, Defendant. On Petition.
p. 215 - same date. Fenwick Fisher, Plft, against Levi Nock administrator of Joseph Burton, Deft.
p. 230 - 26 Aug 1788. Mears Fisher deft. at suit of Arthur Trader.
p. 301 - 29 Jan 1789. George Fisher against Benjamin Kellam. On a petitition.
Orders 1790-1793
p. 3 - 29 June 1790. Fenwick Fisher against Southy Bell. A petition.
p. 41 - 28 Sept 1790. Ordered that Thomas Hall Fisher be allowed in the next County Levy 1 pound 9 shillings and 10 pence for overcharge thru mistake.
p. 100 - 26 Jan 1791. Caleb Fisher against Richard Savage. On a petition.
p. 129 - 4 Feb. 1791. Teackle Fisher and Thomas Fletcher deed was proved by oaths of Robert Pitt, Thomas Cropper and Wm. Young, witnesses.
p. 180 - 4 June 1791. Thomas, Samuel, and Mears Fisher Afsignee of Daniel Rodgers against Zorobabel Croton and Edward Ker.
p. 374 - 25 Apr 1792. Caleb Fisher gaurdian of James Fisher against Richard Hickman.
p. 422 - 1 Aug 1792. An Indenture from Teackle Fisher to Arthur Eum (Evans?).
p. 479 - 20 Nov 1792. Phillip Fisher against Thomas Teackle. On Motion.
p. 488 - 1 Dec 1792. Thomas Fisher against Upshur Folia. In case. Orders 1793-1796
p. 35 - 30 March 1793. Teackle Fisher executor fo Thomas Fisher, deceased, against Arthur Eum (Evans?). On an Injunction.
p. 94 - 30 Sept 1793. An indenture from Philip Fisher to George Fisher was partly proved.
p. 156 - 27 Feb 1794. Teackle Fisher against Shadrack Mears. On a petition.
p. 355 - 28 Jul 1795. Fenwick Fisher assignee of John Phillips against Robert Mears. Fewick Fisher assignee of James Coleburn against Robert Guy, Junr. and Robert Guy, Senr. John Finney against George Fisher, Junr.
p. 364 - 1 Sep 1795. Samuel and Mears Fisher against Wm. H. Beavans. In debt.
Orders 1796-1798
p. 171 - 30 Jan 1797. A deed from Thomas H. Fisher and Margaret Bradford to George Ker was partly proved.
p. 172 - same date. Deed from Thomas H. Fisher and Priscilla his wife and Margaret Bradford to George Ker proved by Thomas H. Fisher and Priscilla.
p. 254 - 31 July 1797. Same deed completely proved.
p. 339 - 27 Nov 1707. George Fisher against James Lewis. In debt.
p. 441 - 25 June 1798. Deed from George Fisher, Senr. to Zadock Nock acknowledged by George Fisher.
p. 450 - 25 July 1798. Maddox Fisher against Christopher Lewis. In Case.
p. 455 - 30 July 1798. Phillip Fisher's Audit & Settlement returned.
p. 463 - 30 July 1798. 0rdered that George Fisher and others pay unto Argil Kellam $1.59 for three days in court as witness against Wm. Hornsby and others.
Orders 1798-1800
pp. 70, 111 - George Fisher assignee against Peggy Stockley.
pp. 134, 205, & 318 - 27 Aug 1799. Fenwick Fisher assignee of George Savage against Wm. M. Duncan and Smith Melson. In Debt.
pp. 178, 293, 327, & 362 - Maddox Fisher against Christopher Lewis.
---
Return to the top of this page
Return to the Original Source Materials page
Return to the GHOTES home page
---
Page accesses to date:
---
Barbara Cox ghotes@ix.netcom.com

Copyright © 1996, 1997, 1998. Most recent revision: February 9, 2004
---