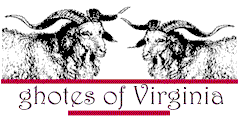 The GHOTES Chincoteague Connection

---
This section of the GHOTES Web site is dedicated to Chincoteague, Chincoteaguers, and Chincoteague lovers. We'll be adding stories, maps, photos, census information, and family trees. We begin with a file showing the descendants of Arthur Cherricks of Chincoteague and some Chincoteague reminiscences, both from our own Olde Ghote Dr. William S. Burton, now known to ghotes everywhere as Dr. Bill.
Dr. Bill grew up in Chincoteague and still knows it well. He will be sending us other information and materials soon. (He's also going to let me see his old photos when next I visit the Eastern Shore, and maybe he'll let us post some to this section.)
Please help this section of our Web site grow! If you are a Chincoteaguer and have materials to share, let me know. Photos wanted. Send email to ghotes@ix.netcom.com.
Meanwhile, enjoy.
---
---
Return to the top of this page
Return to the GHOTES home page
---
Barbara Cox ghotes@ix.netcom.com
Web site &copy copyright 1996-2005 by Ghotes, Inc. Page updated Saturday, October 22, 2005