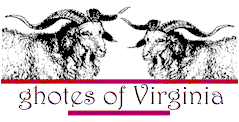 The John B. White Family Bible
Surnames in this record: White, Read, Wilkins, Jacob, Simkins, Saunders, Stephenson, Goffigon, Sturgis, Joynes.
---
Holy Bible J.B.Lippincott & Co. Philadelphia, PA. 1860. Owned by Mrs. William Goffigon - Dalby's, VA. Copied by Jean M.Mihalyka, October, 1975. Transcribed from graphic file by Barbara Cox, October 1999.

MARRIAGES:

Jno.R.Read & Battle A. Wilkins were married Dec.15,1869

Jno.B.White & Rinie (Mariah) E.Read were married Jan.21,1891.

Richard H.Read & Margaret D. Jacob were married 11th day of Feb. 1835.

Richard H.Read & Margaret S(imkins) Read were married Feb.14,1844.

Jno.R.Read and Maria E.Saunders were married on the 3rd of Mr.,1858.

Jno.B.White and Sarah A.J.Read were married on 20th day of Dec.1859.

William S.Read and Maggie L.Read were married Sept.24,1873.

Lena Elizabeth White and William Russell Goffigon married December 12,1917 in Lower Northampton Baptist Church.

BIRTHS :

John B. White - December 11,1869
Maria Elizabeth Read White - February 9th,1871.

Children of Maria Read and John B. White:

Richard Read White - August 20th, 1892.
Lena Elizabeth White - June 8th,1895.
Daniel Page White - September 7th,1902. Marion Kathleen White - July 31st,1906.
John Bruce White - July 25th, 1911.

Children of John Bruce White and Verice Stephenson :

<names of living persons omitted>

Children of Richard Read White & Jessie Williams: Richard Downing White b. 1916 (m.Malinda Parks)

John William White
Jessie Elizabeth White

Children of Lena Elizabeth White and William Goffigon:

William Oliver Goffigon b. Nov.9th, 1918.
Mary Elizabeth Goffigon b.Oct.13th, 1923.

Children of D.P.White and Fannie Sturgis. (Fannie Sturgis married first Wm.Jno.Joynes. They had Wm.Jno Joynes, Jr.)

<name of living person omitted>

DEATHS

John B. White died November 3,1911.
Maria Read White died August 20,1936.
---
Return to the top of this page
Return to the Original Source Materials page
Return to the GHOTES home page
---
Page accesses to date:
---
Barbara Cox ghotes@ix.netcom.com

Copyright © 1999. Posted October 23, 1999. Updated January 9, 2004 (wls)
---