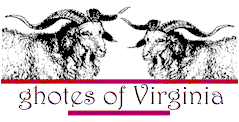 Family Bible Pages
---
Marshall Family Bible
Snow Hill & Horn town
(Bible records of either John D. Marshall and/or his father, William Allen Marshall)
Posted by Judith Marshall Stell
---
Marriages
John D Marshall m Ann Welborne Dec 22 1830
Births
Edward Washington Marshall son John & Hester (Welborne) Marshall b June 26 1832
Susan Ann Marshall b Dec 5 1835
Hester Drummond Marshall dau John & Hester b June 15 1841
John D Marshall son J D & Hester b Dec 5 1845
John D Marshall b Nov 20 1807
Hester Ann Welborne b May 7 1809
William A Marshall b Mar 28 1759
Dolly Bishop wife W A Marshall b Apl 12 1781
Emily Drummond Marshall dau John D & Zipporah Welborne b Aug 22 1833
Sabra Welborne b Aug 2 1836
John William Welborne b May 18 1838 (Marshall) sister John D Marshal
George Sanders Payne son Jacob & Margaret Payne b Oct 31 1835
Deaths
Zipporah P Welborne wife John D Welborne d June 1 1838
John W Welborne d 1838
Emily Drummond Welborne d Dec 26, 1838
Sabra Welborne d Mar 1839
John D Welborne d Mar 25 1849
James C Welborne d Apl 30 1841
William A Marshall d Oct 23 1816 aet 57
Dolly Bishop d Oct 2 1842
Margaret Payne wife Jacob Payne d Feb 20 1845
Hester Drummond Mashall dau John D & Hester d Sept 1841
John D Marshall son J D & Hester d Aug 8 1846
William D Marshall d May 15 1849 son Jno & Hester.
William A Marshall b 1759 d 1816 m
Dolly Bishop b 1781 d 1842 her 1st husband Cap. Geo. Bishop b d
John D Marshall b 1807 d m 1830
Hester Ann Welborne b 1809 d their children
Edward Washington Marshall b 1832 d m
Lavinia Shepherd b d children
Sarah = Susan = Margaret=
Erastus Dashiell O D Collins Jno Wilson
William A Marshall other children Elizabeth= Margaret= Ann= W Boston
John D Marshall other children Anderson Jacob Payne
Susan Ann; Hester Drummond; John D :
Dr Geo Bishop, John D Marshall (1809) half brothers by Dolly Bishop

*This has been copied exactly as spelled and punctuated on the transcript held at Maryland Historical Society,
including the spacing to line up names under the entries for children of John D. Marshall and William A. Marshall
Submitted by Judith Marshall Stell, ghote
---
Return to the top of this page.
Return to the Original Source Materials Pages
Return to the GHOTES home page
---
Page accesses to date:
---
Barbara Cox ghotes@ix.netcom.com

Copyright © 1996 - 1999 This page added November 6, 1999
---