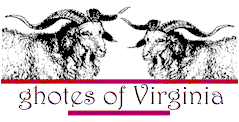 Family Bible Pages
---
Thomas Hallett FITCHETT BIBLE
---
Posted by Barbara Cox
January 8, 1998
---
The following data is recorded from one loose page of the Fitchett Bible. The location of the Bible and the family record section is unknown by Lily Mae Fitchett Drummond (Mrs. E. G.) Eastville, VA. Typed originally by Jean M. Mihalyka in July 1988.

MARRIAGES
Thomas Hallett Fitchett and Lillian May Watson were married September 25, 1901
Margaret Katharine Fitchett and George Scherer Trower were married June 2, 1921.
Lily Mae Fitchett and Ernest Garrison Drummond wre married April 9, 1932
Leonard Ellison Fitchett and Helen Dunton were married 10 August, 1937, in the evening at the bride's home in Birdsnest.

BIRTHS
Margaret C. Fitchett born July 14, 1902
Thomas Hallett Fitchett, Jr. Born April 28, 1904
Leonard E. Fitchett born August 22, 1907
Lily Mae Fitchett born May 23, 1912
Norma Paige Fitchett born [no date]
Return to the top of this page
Return to the Original Materials Index
Return to the GHOTES home page
---
Page accesses to date:
---
Barbara Cox ghotes@ix.netcom.com

Copyright © 1998 Posted Monday January 5, 1998 9:00PM PST. Updated January 9, 2004 (wls)
---