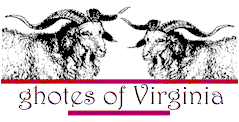 Family Bible Pages
---
W. J. NOTTINGHAM BIBLE
---
THE HOLY BIBLE The Family Bible of W. J. NOTTINGHAM

A.J. Holman & Company Philadelphia, Pa. 1881. Owned by Mrs. L. T. Nottingham, Pickett's Harbor Rd., Cape Charles, R.D Va. 23310. Copied by Jean M. Mihalyka in June 1979. Embossed on the cover of the large Bible is "Mr.and Mrs. W. J. Nottingham."

The format of the Family Record section is arrayed in columns as follous: Name, Place of birth, date of Birth, Date of Marriage, and Date of Death. For clarity, birth, marriage and death will be indicated by small "b," "m," and "d."
---
W.J. Nottingham Fishermans Point (Kiptopeke) b. Nov. 5th, 1871 m. Jan. 30th, 1907 d. July 13th, 1953.
Sara Hallett Nottingham "Bloomington" (site of this home is now part of the Air Force Base Kiptopeke, Va.) b. Feb.l5th, 1876 m. Jan 3Oth, 1907 d. April 18th l946.
Leonard Thomas Nottingham Locust Grove Farm b. Jan. 13th 1908 m. July 15th, 1930 d. Jan. 31st, 1973.
Maggie Edna Nottingham Locust Grove Farm b. April 7, 1912 m. April 7. ... d. Nov.6, 1977 (lived and is buried in San Antonio, Texas.)
[Names of living persons omitted.]
Horses:
1 Grey colt mare Eliza born March 29th 1908.
1 Bay Colt mare Bet born May 3rd.1909.
1 Sorrel Colt mare Dan Patch born May 5th, l9lO.
1 Rone Colt mare Sampson born May 1911.
1 Black Colt mare Roxey born April 9th,1912.

Posted by Barbara G. Cox
May 1, 1996
---
Return to the top of this page
Return to the Original Source Materials Pages
Return to the GHOTES home page
---
Page accesses to date:
---
Barbara Cox ghotes@ix.netcom.com

Copyright © 1996 Most recent revision January 9, 2004 (wls)
---