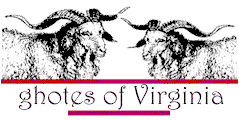 GHOTES 97 CONFERENCE
40 GATHER ON EASTERN SHORE TO TRACE ROOTS
Newpaper article from the Virginian-Pilot 9/26/97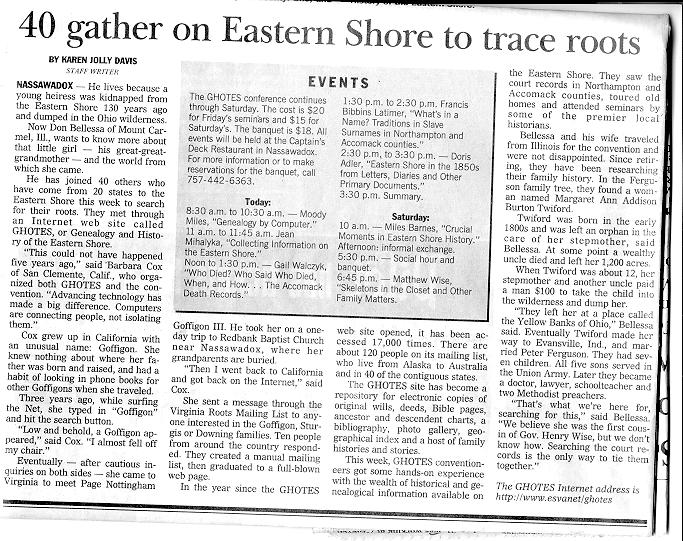 Published: Friday, September 26, 1997
Section: LOCAL , page B5
Source: BY KAREN JOLLY DAVIS, STAFF WRITER
Web Site: Pilot Online
Norfolk, Va., USA
The Virginian-Pilot
757-446-2705
© 1997 Landmark Communications Inc.
Full Text taken from the Virginian-Pilot Archives
40 GATHER ON EASTERN SHORE TO TRACE ROOTS
Published: Friday, September 26, 1997
Section: LOCAL , page B5
Source: BY KAREN JOLLY DAVIS, STAFF WRITER
© 1997 Landmark Communications Inc.
He lives because a young heiress was kidnapped from the Eastern Shore 130 years ago and dumped in the Ohio wilderness.
Now Don Bellessa of Mount Carmel, Ill., wants to know more about that little girl - his great-great-grandmother - and the world from which she came.
He has joined 40 others who have come from 20 states to the Eastern Shore this week to search for their roots. They met through an Internet web site called GHOTES, or Genealogy and History of the Eastern Shore.
``This could not have happened five years ago,'' said Barbara Cox of San Clemente, Calif., who organized both GHOTES and the convention. ``Advancing technology has made a big difference. Computers are connecting people, not isolating them.''
Cox grew up in California with an unusual name: Goffigon. She knew nothing about where her father was born and raised, and had a habit of looking in phone books for other Goffigons when she traveled.
Three years ago, while surfing the Net, she typed in "Goffigon" and hit the search button.
``Low and behold, a Goffigon appeared,'' said Cox. ``I almost fell off my chair.''
Eventually--after cautious inquiries on both sides--she came to Virginia to meet Page Nottingham Goffigon III [Jr. actually. my fault. Sorry Page. BC]. He took her on a one-day trip to Redbank Baptist Church near Nassawadox, where her grandparents are buried.
"Then I went back to California and got back on the Internet," said Cox.
She sent a message through the Virginia Roots Mailing List to anyone interested in the Goffigon, Sturgis or Downing families. Ten people from around the country responded. They created a manual mailing list, then graduated to a full-blown web page.
In the year since the GHOTES web site opened, it has been accessed 17,000 times. There are about 120 people on its mailing list, who live from Alaska to Australia and in 40 of the contiguous states.
The GHOTES site has become a repository for electronic copies of original wills, deeds, Bible pages, ancestor and descendent charts, a bibliography, photo gallery, geographical index and a host of family histories and stories.
This week, GHOTES conventioneers got some hands-on experience with the wealth of historical and genealogical information available on the Eastern Shore. They saw the court records in Northampton and Accomack counties, toured old homes and attended seminars by some of the premier local historians.
Bellessa and his wife traveled from Illinois for the convention and were not disappointed. Since retiring, they have been researching their family history. In the Ferguson family tree, they found a woman named Margaret Ann Addison Burton Twiford.
Twiford was born in the early 1800s and was left an orphan in the care of her stepmother, said Bellessa. At some point a wealthy uncle died and left her 1,200 acres.
When Twiford was about 12, her stepmother and another uncle paid a man $100 to take the child into the wilderness and dump her.
"They left her at a place called the Yellow Banks of Ohio," Bellessa said. Eventually Twiford made her way to Evansville, Ind., and married Peter Ferguson. They had seven children. All five sons served in the Union Army. Later they became a doctor, lawyer, schoolteacher and two Methodist preachers.
"That's what we're here for, searching for this," said Bellessa. "We believe she was the first cousin of Gov. Henry Wise, but we don't know how. Searching the court records is the only way to tie them together."
Description of illustration(s): Photo
TAMARA VONINSKI/The Virginian-Pilot
Jean Mihalyka, one of the Eastern Shore's foremost historians, works with some of the oldest court records in Northampton County. She, and other historians, will speak today to the GHOTES, or Genealogy and History of the Eastern Shore.
Graphic EVENTS
The GHOTES conference continues through Saturday. The cost is $20 for Friday's seminars and $15 for Saturday's. The banquet is $18. All events will be held at the Captain's Deck Restaurant in Nassawadox. For more information or to make reservations for the banquet, call 757-442-6363.
Today:
8:30 a.m. to 10:30 a.m. - Moody Miles, ``Genealogy by Computer.''
11 a.m. to 11:45 a.m. Jean Mihalyka, ``Collecting Information on the Eastern Shore.''
Noon to 1:30 p.m. - Gail Walczyk, ``Who Died? Who Said Who Died, When, and How. . . The Accomack Death Records.''
1:30 p.m. to 2:30 p.m. Francis Bibbins Latimer, ``What's in a Name? Traditions in Slave Surnames in Northampton and Accomack counties.''
2:30 p.m. to 3:30 p.m. - Doris Adler, ``Eastern Shore in the 1850s from Letters, Diaries and Other Primary Documents.''
3:30 p.m. Summary.
Saturday:
10 a.m. - Miles Barnes, ``Crucial Moments in Eastern Shore History.''
Afternoon: informal exchange.
5:30 p.m. - Social hour and banquet.
6:45 p.m. - Matthew Wise, ``Skeletons in the Closet and Other Family Matters.
This article is © 1997 Landmark Communications Inc.
Posted on this web site with written permission from Landmark Communications Inc.
---
Return to the GHOTES 97 Conference Photos page
Return to the GHOTES home page
---
Barbara Cox ghotes@ix.netcom.com

Copyright © 1997 Most recent revision: February 10, 2004
---